Posted in
Humor
,
Personal
on June 22nd, 2012 by Joan Mae –
3 Comments
Hi friends! Just checkin my site * whoa its still runnin! yee *
Been veeerrry busy with the job lately so I havent had the time to write stuff about whats happenin! But yep Im still happy and sunny and smiling and havin lots and lots of fun
Talk about work! And I just wanna give you friends a lil bit of inspirational shit, i mean stuff! *easyy lels* . Ü As you know I work  in the BPO. But Im not one of those guys you see with a headset on and talkin to a bunch people they dont know ( I used to do that but not nemore ) So my job is all about sittin 8 hours or more a day and stare at the computer , receiving lots of emails , doing reports and get cranky sometimes. Lol. Well I got all shares of disaster when it comes to my work, people nag you to death when you didnt meet their expectations, but they could also love you to bits when you did a great job! * Which its perfectly normal and it just run around that circle*
Its tough you know, but I gotta do it. I could whine the whole day, but really.. I  still have to do it. The best  part of being under pressure  is that when you survived a whole week of stress, all feels super super great come weekends.
There was this onshore colleague who sent me  a pic via ping, he knows Im in crisis and almost everytime people talk to me, they'd give me nothin but badnews. When I got this pic, I just laughed it off.
I was also told " You need to unwind daily coz if you dont, you'll go crazy "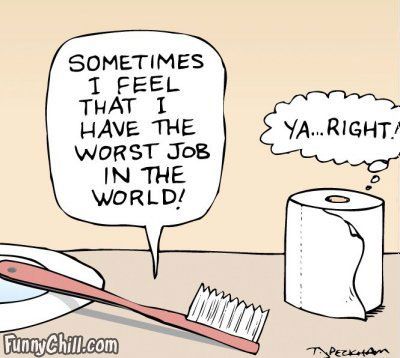 Sometimes things in life get really overwhelming. But its all about managing your self and your time. My whole week is dedicated to work, and on weekends I have all the time to chill out. Movies and long vacation to look forward, plus a pay that looks nice, thats all hardwork that got paid off . Im just happy and all happy with how things are arrange the way they are. Im not the richest girl in this line of  business but it pays my house rent, my utility bills, my food, i bought my clothes and all the good stuff  with the money I get out of it.. I mean ? diba? isnt that enough to love my job.  I hope that inspired you somehow. Heheh , to all my fellahs  workin like a horse, cheers and more cheeers to you!
Have a great weekend ! ♥